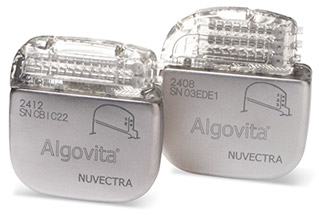 Nuvectra Corporation, a neurostimulation medical device company, has announced that the Company's Algovita Spinal Cord Stimulation (SCS) system has been implanted in over 2,000 patients in the US. The Algovita SCS System utilises one of the most robust internal pulse generators used for spinal cord stimulation and patent-protected stretchable lead technology to deliver four unique stimulation modes to patients seeking non-pharmaceutical relief from chronic pain.
Scott Drees, CEO of Nuvectra, said, "I am excited to recognise Nuvectra's 2,000th US implant as another significant commercial milestone which further demonstrates our team's continued success in driving adoption of our Algovita SCS system. This achievement represents a doubling of US implants in just over six months and reflects the world-class professional service provided by our sales force and the clinical efficacy of our system. We continue to receive positive clinical and patient feedback and look forward to accelerating our growth in the expanding SCS market."
Nuvectra is a neurostimulation company committed to helping physicians improve the lives of people with chronic conditions. The Algovita Spinal Cord Stimulation (SCS) System is our first commercial offering and is CE marked and FDA approved for the treatment of chronic intractable pain of the trunk and/or limbs.