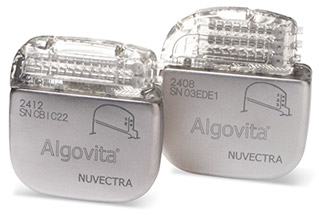 Nuvectra has announced that it has received US Food and Drug Administration (FDA) head-only MR-conditional approval for the company's Algovita spinal cord stimulation (SCS) system.
Scott Drees, chief executive officer, commented, "This FDA approval represents our continued commitment to the advancement of the Algovita system and further enhances our competitive positioning. We believe that the addition of a head-only MR-conditional label will drive increased adoption of our system. As we prepare to submit an application for full-body MR-conditional approval with the FDA in early 2019, we look forward to continued growth in the USA."
The Algovita SCS system utilises one of the most robust internal pulse generators used for spinal cord stimulation and patent-protected stretchable lead technology to deliver four unique stimulation modes to patients seeking non-pharmaceutical relief from chronic pain. The SCS system has already been implanted in over 2,000 patients in the USA.
Additionally, Nuvectra has previously been recognised for its Algovita SCS system, and awarded the 2017 North American New Product Innovation Award for its flagship product, the Algovita SCS system. They said "SCS is fast becoming the non-drug alternative for chronic pain conditions, and Nuvectra's commitment to advancing next-generation neurostimulation technologies makes it a crucial player in the market."