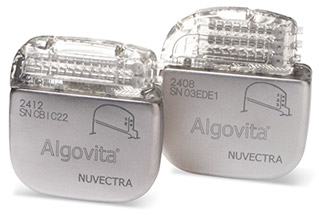 Nuvectra has announced that it has received full-body MR-conditional approval for the Company's Algovita spinal cord stimulation (SCS) system from its European Notified Body, TÜV SÜD. The approval closely follows the Company's announcement regarding its receipt of head-only MR-conditional approval for Algovita from the US Food and Drug Administration (FDA).
Scott Drees, chief executive officer, commented, "Full-body MR-conditional approval in Europe further validates the safety of our Algovita system and follows our recent announcement of FDA head-only MR-conditional approval in the US. We look forward to the continued advancement of the system with submission for full-body MR-conditional approval to the FDA in early 2019."
The Algovita SCS system utilises internal pulse generators used for spinal cord stimulation alongside patent-protected stretchable lead technology to deliver four unique stimulation modes to patients seeking non-pharmaceutical relief from chronic pain. Algovita's SCS system has already been implanted in over 2,000 patients in the USA.