A low-profile multicolumn paddle lead has provided an option for spinal cord stimulation therapy in an area which traditionally is difficult to access with other paddle leads currently available on the market. Giancarlo Barolat (Barolat Neuroscience, Presbyterian/St Luke's Medical Center, Denver, USA) performed the procedure using the smaller paddle leads at his centre.
The use of paddle leads offers many advantages over percutaneous leads. However, there are areas in the spinal canal that cannot be easily accessed by existing paddle leads due to their large size and volume. A new smaller, multicolumn paddle has been developed that may allow placement in areas otherwise not easily accessed by existing larger paddle leads.
A 50-year old woman presented at Barolat Neuroscience suffering from intractable neuropathic pain in the hands following a C4-C7 laminectomy and subtotal resection of an intradural intramedullary spinal cord lipoma. Barolat performed a staged cervical spinal cord stimulation implant using two 12-contact, low-profile multicolumn paddle leads (Nuvectra model 3000). Prior to the procedure, an MRI was performed to assess the size of the spinal canal to insure adequate clearance for the paddle leads.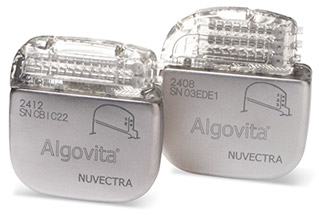 In stage one, with the patient under general anaesthesia, the paddle leads were placed in a caudal direction between C1 and C2 to provide full coverage of the pain areas. Retrograde placement between the occiput and C1 was avoided because of the high incidence of lead fracture. During the trial, Barlot reported, the patient received excellent pain relief in both hands and subsequently was implanted with a new type of implantable pulse generator (IPG) with 24 current sources (Algovita from Nuvectra). The IPG was programmed with a steering algorithm using fractionalised current resulting in excellent pain relief in both hands.
"The challenge with this case was to insert two paddle leads in a caudal direction between C1 and C2 to fit in the small area behind the lamina of C2 and C3. Other than the Nuvectra 3000 (38.4mm x 9mm x 2mm), the only other paddle lead available that could fit in such a confined space was the Exclaim from St Jude Medical (33mm x 9.5mm x 2mm), which has only eight contacts versus 12 of this new lead and no current fractionalisation. The Nuvectra 3000 leads also feature a hinged tail on top of the paddle allowing the ends to be placed under the lamina of C2 and C3 caudally and the arch of C1 cephalad for added security," Barolat explained.
Further, he noted, "The small size and low profile of this new paddle lead allowed placement in the confined space behind the lamina of C2 and C3 resulting in excellent pain relief in both hands."